As I Recall, by Kerry Wick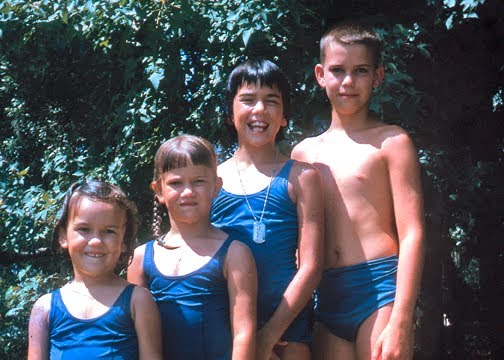 Kerry (left), with siblings Susan, Kathleen, and Michael, circa 1964, just before stripes were invented
I don't remember the first time I actually entered a pool -- but my mother may have toweled me off just in time to catch Bobby Darin sing Mack the Knife on the Ed Sullivan show. The pool was not more than six inches deep, carefully positioned between a birdbath and an azalea bed, thus minimizing the dragging of the garden hose. I sported a bathing suit bottom and posed for the family's future amusement. Infant bathing suits tops were apparently scarce at this time, although slide projectors were readily available. That's how I know this is true.
During the Kennedy administration our family frequented "Splash" (family swim night) at The Church of the Good Shepherd Pool in Jacksonville, Florida. Someone strapped a styrofoam egg to my back and I "splashed". I was more willing to conform back then.
At the age of five I unstrapped the egg for the final time and swam the full 80 feet length of the church pool, qualifying me as a member of Good Shepherd Swim Team. For my efforts I received a size 24 royal blue nylon suit, with a red and white stripe down the front, and a ride to swim practice for the next twelve years.
I swam year-round till the age of seventeen, for Good Shepherd Swim Team, Navy Jax Swim Team, and Randy Reese Swim Team. 300 practices per year for 12 years (not counting time out for ear aches and hiding in the locker room to play slip and slide on the shower room floor).
At age eighteen I followed Randy Reese, soon-to-be-named Olympic Coach, to the University of Florida, and was a walk-on for the Gator Swim Team. For three weeks I swam, ran, trekked up stadium stairs, lifted weights, and swam some more. Then I walked off. I was making new friends and exploring college activities. There was more to life than swimming. I rejoiced at my new life. I cried at my loss.
It took five years to discover that the sport of swimming was not something I could easily walk away from. I accepted the head coach position at Navy Jax Swim Team. Approximately ten years later I started my own swim technique program -- Kerry Wick Swim School -- at the Church of the Good Shepherd pool. Over the years I have coached age-group, high school, and Masters swimming. I currently swim with Holmes Lumberjax Swim Team in Jacksonville. I hope to instill in others the joy that swimming has brought to my life. I'll keep my eyes peeled for a kid with a styrofoam egg.