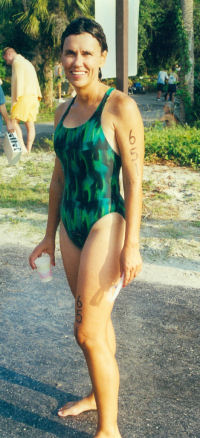 Coach Kerry after swim leg of Beaches Fine Art Series Sprint Triathlon Relay in Jacksonville, Florida
Certifications

American Swim Coaches Association (ASCA) Level 2 Masters Coach
Coach Member of USA-S (USA Swimming)
Safety Training for Swim Coaches
Athlete Protection
First Aid and CPR
American Red Cross Lifeguard
United States Masters Swimmer
ASCA Foundations of Coaching and Stroke School
Continuing Education through the following:
  USA Swimming
  US Masters Swimming
  American Swim Coaches Association
State of Florida Certified Teacher
   Elementary Education
   Middle and High School Math
   English as a Second Language
Boys Scouts of America Youth Protection Training

Kerry Wick has more than 25 years of competitive coaching experience. She has instructed swimmers with USA Swimming, Florida High School Swimming, and United States Masters Swimming. Kerry is the head coach and owner of Kerry Wick Swim School, a youth program specializing in stroke technique.

Kerry is a United States Masters Swimmer with open water swim victories. She is a member of the 100K World Record Open Water Lake Swim held in Lake Cane, Orlando, Florida, October 12 – 14, 2007. She currently competes in pool and open water races with Holmes Lumberjax Swim Team in Jacksonville, Florida.




Coach Kerry has spent a lifetime studying and applying stroke technique


She can quickly analyze and resolve stroke issues, to maximize swim speed and efficiency


She teaches with a positive approach

Kerry is proud to be a Florida Gator, Class of 1980. She swam briefly for the university team. Although she can count practices attended on her fingers and toes, she still dreams of running stadium stairs.

Youth swimming includes Randy Reese Swim Team, Navy Jax Swim Team, and Good Shepherd Swim Team in Jacksonville, Florida. This occurred sometime in the distant past, after dinosaurs but before goggles, when starting blocks were called "blocks" for a reason, and the good ones had sand mixed with the paint, so neither you nor your trolls fell off.